Introduction
Please read through the following sections written in Hindi because most of our Govt Teachers are required to present their report in Hindi. All the information given below will help you with the process of Cash Book Generation System under Mid day meal scheme / Mid day meal programme brought to you by eMDM.
Read it first (पहले इसे पढ़ लें )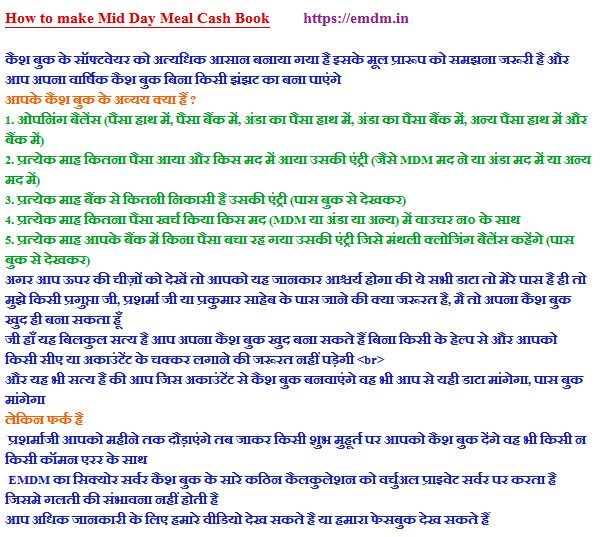 How Can I Register
First of all, There are no charges for registration
For your Information (आपकी जानकारी के लिए)
There are two servers 1. Test Server and 2. Production Server
(eMDM ने दो सर्वर लगा रखे हैं 1. टेस्ट सर्वर और 2. प्रोडक्शन सर्वर)
You can do trial on Test Server and if you feel comfortable you can start making your Cash Book on our Production Server
(आप पहले टेस्ट सर्वर पर ट्रायल करके देख सकते हैं यदि आप सहज महसूस करते हैं तो आप प्रोडक्शन सर्वर पर अपने कैश बुक बनायें)

Registration Screen

eMDM Dashboard
After Entry you will get OTP. Enter OTP and you will get your User ID and Password on your Mobile.
You can login using the User Id and Password. You will get your Dashboard. First time eMDM will ask you to setup your Opening Balance.
You can opt for making MDM Report only, Cash Book Only or Both.
How is Cash Book Interface?
It is highly intuitive
Can I Make Back Year Cash Book?
Yes You can make back year Cash Book
How Can I Print Cash Book?
After Cash Book Generation You Can Print
My Options to Start
1. Test Server
Go to Test Server
2. Production Server
Go to Production Server
Head Masters / In-charges starting to use our services are directed to learn on our Test Servers by making Trial Reports and then subscribe our services.
eMDM Service Charges
Every School will have a Wallet. All Payments will be from Wallet
Once you sign up with us you will have a default wallet setup. When you pay us, your amount gets credited to your Wallet.
For various services you will have to pay from your wallet only.

Terms & Conditions